Getting Involved with ISPE
ISPE, like many non-profit professional societies, is led and served by active volunteer members. In this section, you will find information about how to join ISPE as an individual member, or an institutional member, as well as learn more about volunteer and mentoring opportunities to "Get Involved"!
For those interested in offering their time and energy to the Society there are countless ways of becoming involved. Active members can volunteer their time and participate on committees, councils, special interest groups (SIGs), and other Society initiatives.
ISPE is always seeking your ideas and your talents to improve the Society. Whether it is serving as a mentor in our Mentor Match Program, contributing knowledge to the profession, or shaping policy in a volunteer group, there are numerous ways for you to give to your profession and your profession's Society.
As demonstrated in the figure below, there is no set ISPE career path. Many presidents of ISPE started out as active student members, volunteering their time to take tickets at annual meetings or volunteering to take a student leadership position carrying on in the Society as they gained employment, and then speaking at or helping plan an ICPE or Mid-Year Meeting. Others have joined the Society later in their careers and provided support to the Society as a speaker and topic expert. There is no right way to volunteer in ISPE, because service is recognized with opportunity, especially as ISPE continues to grow across the globe.
Click the image below to view a full-size version of the ISPE Opportunity Pathways in another window. From there, you will be able to use the hyperlinks embedded within the figure to direct you to opportunities to contribute to the Society.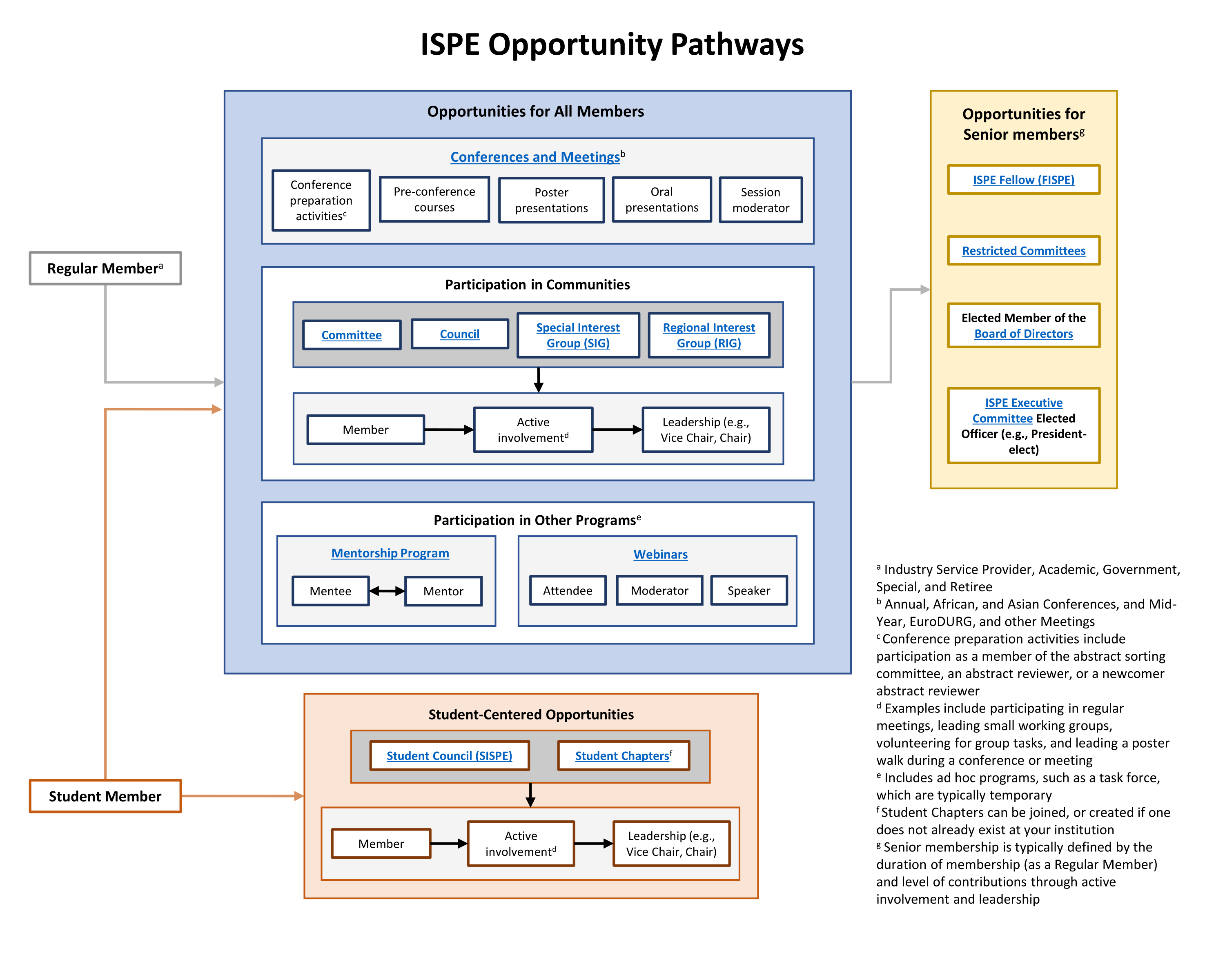 For any questions or suggestions regarding the ISPE Opportunity Pathways, we welcome feedback sent to info@pharmacoepi.org.