ISPE Funded Manuscripts Initiative
ISPE annually funds proposals for manuscripts that could be used for guideline development, or reference documents for pharmacoepidemiology, including pharmacovigilance, drug utilization research, outcomes research, comparative effectiveness research, and therapeutic risk management.
For a list of ISPE Endorsed Manuscripts click here
ISPE Funded Manuscript Process
Download and read the application instructions
Apply online by EOB Tuesday, Sep 28 using the online application process [THE APPLICATION PROCESS IS NOW CLOSED]
The deadline will not be extended, and proposals submitted via other means will not be accepted.
Suggested topics of interest to the Society include:
COVID-19 vaccines and therapeutics safety and effectiveness, especially methodological considerations
Real-world evidence for regulatory decision-making
Real-world data quality and transparency, acceptable methods and approaches for data handling issues
Precision medicine
Patient-generated health data
Signal detection in emerging large data sets such as EHR, social media, or device generated data
Use of pharmacological / mechanistic data in pharmacoepidemiologic studies
AI and machine learning approaches to examine causal hypotheses
New methods in pharmacoepidemiology
Best practices related to specific approaches in pharmacoepidemiology
Implementation science in risk minimization programs
Formal evaluation of risk minimization approaches
Use of mixed methods in design, implementation, and/or evaluation of risk minimization measures
Measuring impact of pharmacovigilance activities
Guidance/methods (design/analysis) of multi-database studies
Impact of critical global issues on pharmacoepidemiology
Any topic contributing to ISPE's strategic mission
Proposal are assessed against the following criteria:
Appropriateness of issue to the general ISPE membership
General interest of topic to ISPE membership
Feasibility to accomplish the stated objectives
Importance (or significance) of proposal to the field of pharmacoepidemiology
Visibility (the extent to which the proposed manuscript will be used and, if so, raise the visibility of pharmacoepidemiology)
Collaboration among multiple organizations, work sectors, and geographic regions, and
Consistency with ISPE strategic goals, objectives and priorities
Manuscript funding averaged USD 9900.00 each for the five accepted in 2020. As the total number of manuscripts funded is governed by the budget allocated by the Board, the actual funding amount dispensed per year can change.
Proposals must conform to the format described in this document.
Submissions for 2021, which may only be submitted online here, are now being accepted with a deadline of 11:59 PM US Eastern Time on Tuesday, September 28, 2021. The deadline will not be extended, and proposals submitted via other means will not be accepted.
General Timeline
Sep 28 – submission deadline
Oct 31 – Joint Manuscript Proposal Review Subcommittee completes first review; if applicable, feedback is provided to writing teams and revised proposals requested
Nov 30 – If applicable, author responses to feedback due back to ISPE
Dec 31 – Joint Manuscript Proposal Review Subcommittee makes final selections; notifications to writing team lead contact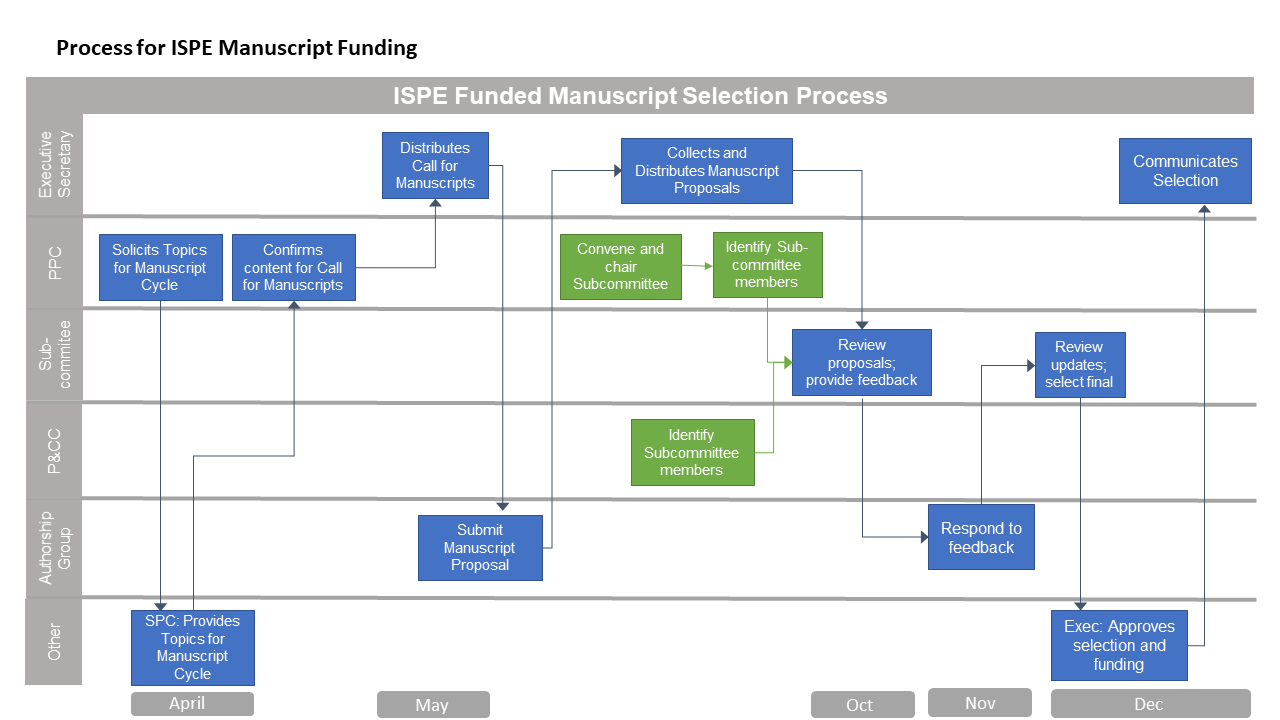 Manuscript Proposals Previously Accepted Click Here